I have decided, and I'm sure I must be quite mad, that I need a Bell Tent. Those gorgeous, canvas tents. I had a go at camping for a few days earlier this month and it was a bit of a disaster. Not my fault but everything got very wet. I took my two man tent and was quite dry in that if not a bit cramped as no room to cook or stand up etc so, some friends, who had a VERY big tent said I could use theirs as they were going to sleep on the canal boat as it was warmer. First night was fine but there was no rain, second day it rained and rained and rained. I thought the water in the tent was mostly condensation until I moved the bedding and realised the tent leaked like a sieve. All the bedding was soaked wet through. Good job I was only 3 miles from home. I dumped everything in the car and went home for the night. Kitchen looked like a Chinese Laundry for days BUT I really enjoyed myself nonetheless.
Anyway, I spied some gorgeous, canvas bell tents for sale and looked into them a bit more. It appears you can even get wood stove burners for them. How cool (or should I say warm) is that. If nothing else it should keep the damp at bay. Nothing worse than getting into damp bedding. AND people decorate them with lots of bunting. Now I adore bunting. So, a bid has been made for a second hand
SoulPad
Bell Tent. Just waiting on the guy to post it.
Not my tent but aren't they just gorgeous? I can't wait to get mine. First up I NEED bunting and pretty cushions and girly stuff.
They actually come in really pretty colours too.
If I win the lottery I'd love a Lotus tent, they are really funky but very expensive. Not sure if I could put one up on my own though.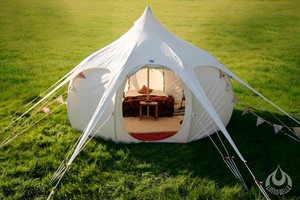 I'll update on this bell tenting milarky once I have it and get it set up.
Bye for now. x